Human Machine Interaction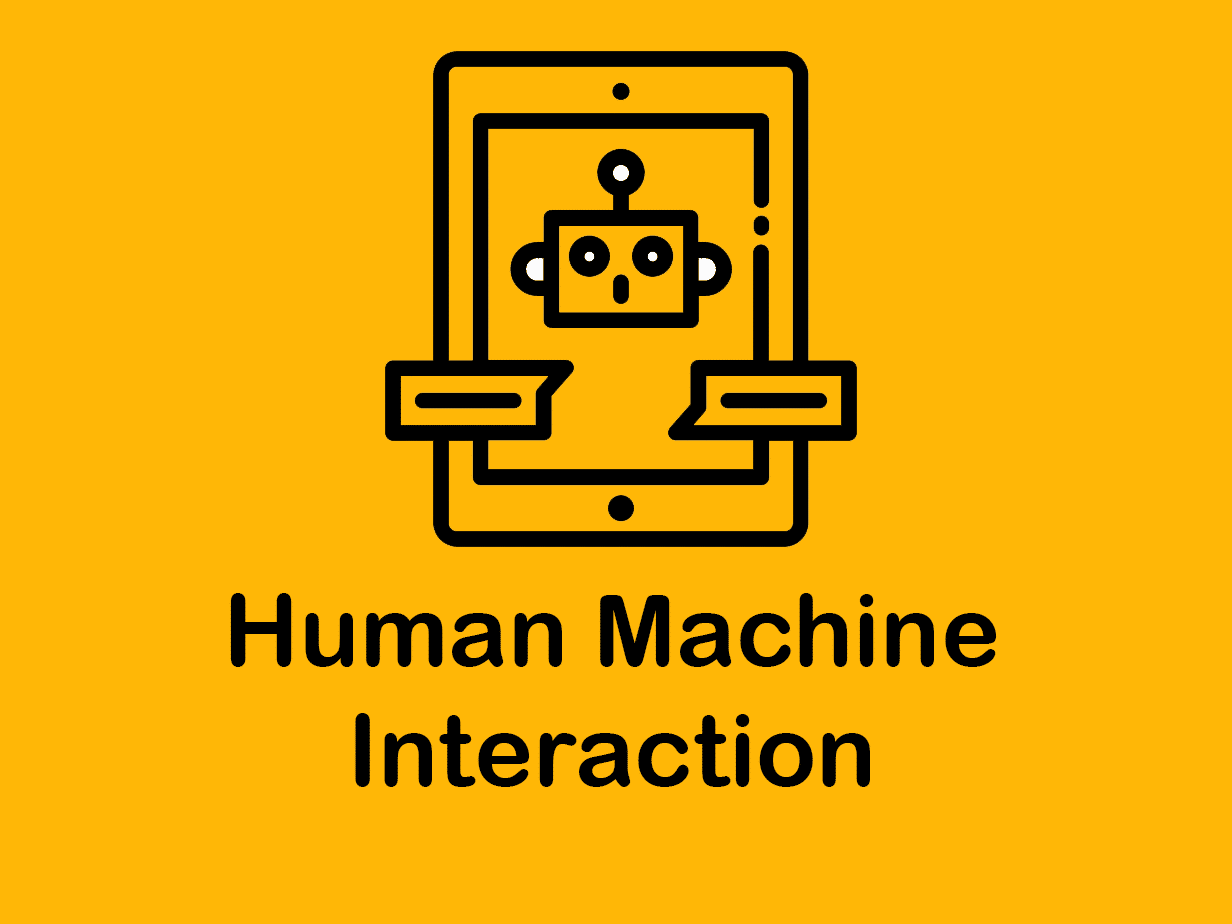 Human Machine Interaction
Human Machine Interaction is semester 8 subject of final year of computer engineering in Mumbai University. Prerequisite for studying this subject are Web Technologies; Software Engineering; Experience in designing interfaces for applications and web sites. Basic knowledge of designing tools and languages like HTML, Java, etc.
Human machine interaction studies the design and use of computer technology, focused on the interfaces between people (users) and computers. Researchers in the field of HCI observe the ways in which humans interact with computers and design technologies that let humans interact with computers in novel ways. As a field of research, human-computer interaction is situated at the intersection of computer science, behavioural sciences, design, media studies, and several other fields of study. The term was popularized by Stuart K. Card, Allen Newell, and Thomas P. Moran in their seminal 1983 book, The Psychology of Human–Computer Interaction, although the authors first used the term in 1980 and the first known use was in 1975.The term connotes that, unlike other tools with only limited uses (such as a wooden mallet, useful for hitting things, but not much else), a computer has many uses and this takes place as an open-ended dialog between the user and the computer. The notion of dialog likens human–computer interaction to human-to-human interaction, an analogy which is crucial to theoretical considerations in the field.
Module FOUNDATIONS OF Human Machine Interaction covers topics such as The Human: History of User Interface Designing, I/O channels, Hardware, Software and Operating environments, The Psychopathology of everyday Things, Psychology of everyday actions, Reasoning and problem solving. The computer Devices, Memory, processing and networks. Interaction: Models, frameworks, Ergonomics, styles, elements, interactivity, Paradigms. Module DESIGN & SOFTWARE PROCESS covers following topics such as Mistakes performed while designing a computer system, Human interaction with computers, importance of human characteristics human consideration, Human interaction speeds .Interactive Design basics, process, scenarios, navigation, Iteration and prototyping. HMI in software process: software life cycle, usability engineering, Prototyping in practice, design rationale. Design rules: principles, standards, guidelines, rules. Recognize the goals, Goal directed design process. Evaluation Techniques: Universal Design. Module GRAPHICAL USER INTERFACE covers following topics such as, the graphical User Interface: Popularity of graphics, the concept of direct manipulation, graphical systems, Characteristics. Web user Interface: Interface popularity, characteristics. The merging of graphical Business systems and the Web. Principles of user interface design. Module SCREEN DESIGNING covers following topics such as Design goals , Screen planning and purpose, organizing screen elements, ordering of screen data and content , screen navigation and flow, Visually pleasing composition, amount of information, focus and emphasis, presentation information simply and meaningfully, information retrieval on web, statistical graphics, Technological consideration in interface design. Module INTERFACE DESIGN FOR MOBILE DEVICES covers following topics such as Mobile Ecosystem: Platforms, Application frameworks: Types of Mobile Applications: Widgets, Applications, Games, Mobile Information Architecture, Mobile, Mobile Design: Elements of Mobile Design, Tools. Module INTERACTION STYLES AND COMMUNICATION covers following topics such as Windows: Characteristics, Components, Presentation styles, Types of Windows, Management, operations. Text messages: Words, Sentences, messages and text words, Text for web pages. Icons, Multimedia and colors
Course Objectives of the subject Human Machine Interaction At the end of the course, students will be able to learn the foundation of human machine interaction. Understand the importance of human psychology in designing good interfaces. Will be aware of mobile interaction design and its usage in day – to – day activities. Understand various design technologies to meet user requirements. Encourage to indulge into research in Machine Interaction Design. Outcomes of the course Human Machine Interaction are as follows the learner will be able to Identify User Interface (UI) design principles. Analysis of effective user friendly interfaces. Apply Interactive Design process in real world applications. Evaluate UI design and justify. Create application for social and technical task.
Suggested Texts Books for Human Machine Interaction by Mumbai University are as follows Alan Dix, Janet Finlay, Gregory Abowd, Russell Beale, ―Human Computer Interaction‖, 3rdEdition,Pearson Education, 2004. Wilbert O. Galitz, ―The Essential Guide to User Interface Design‖, Wiley publication. Alan Cooper, Robert Reimann, David Cronin, ―About Face3: Essentials of Interaction design‖,Wiley publication. Jeff Johnson, ―Designing with the mind in mind‖, Morgan Kaufmann Publication. Donald A. Normann, ― Design of everyday things,Basic Books; Reprint edition 2002. Brian Fling, ―Mobile Design and Development‖, First Edition, O'Reilly Media Inc., 2009.Suggested Reference Books for Human Machine Interaction by Mumbai University are as follows Rogers Sharp Preece Interaction Design: Beyond Human Computer Interaction ,Wiley. Guy A. Boy ―The Handbook of Human Machine Interaction, Ashgate publishing Ltd. Kalbande, Kanade, Iyer, ―Galitz's Human Machine Interaction‖, Wiley Publications.
Prepare For Your Placements: https://lastmomenttuitions.com/courses/placement-preparation/


/ Youtube Channel: https://www.youtube.com/channel/UCGFNZxMqKLsqWERX_N2f08Q
Follow For Latest Updates, Study Tips & More Content!

/lastmomenttuition

/ Last Moment Tuitions

/ lastmomentdost
Course Features
Lectures

77

Quizzes

0

Duration

50 hours

Skill level

All levels

Language

English

Students

14

Certificate

No

Assessments

Yes