Enterprise Resource Planning (ERP)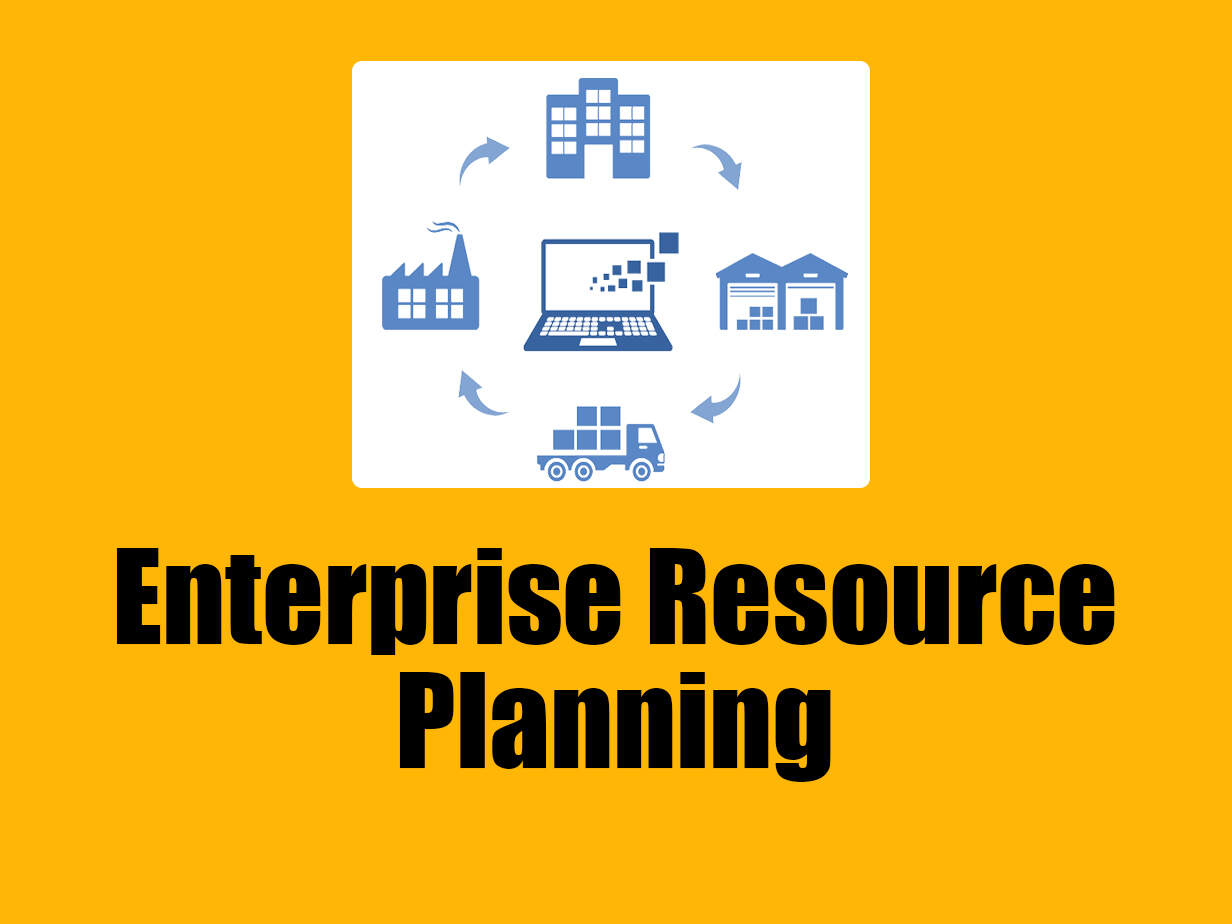 Enterprise Resource Planning (ERP)
Enterprise Resource Planning  6 subject of final year of computer engineering in Mumbai University. Prerequisite for studying this subject are Web Engineering, Computer Network, Database Systems.
Course Objectives of subject Enterprise Resource Planning is to understand the technical aspects and life cycle of ERP systems. To understand the steps and activities in ERP.  To identify and describe different types of ERP system. To understand tools and methodology used for designing ERP for an Enterprise. Course Outcomes of the subject Enterprise Resource Planning After completion of this course, students will be able to understand the basic structure of ERP.  To identify implementation strategy used for ERP. To apply design principles for various business modules in ERP. To apply different emerging technologies for implementation of ERP. To analyze security issues in ERP. To acquire ERP concepts for real world applications.
Enterprise resource planning (ERP) is the integrated management of main business processes, often in real time and mediated by software and technology. ERP is usually referred to as a category of business management software typically a suite of integrated applications that an organization can use to collect, store, manage, and interpret data from many business activities. ERP provides an integrated and continuously updated view of core business processes using common databases maintained by a database management system. ERP systems track business resources cash, raw materials, production capacity and the status of business commitments: orders, purchase orders, and payroll. The applications that make up the system share data across various departments (manufacturing, purchasing, sales, accounting, etc.) that provide the data. ERP facilitates information flow between all business functions and manages connections to outside stakeholders. Enterprise system software is a multibillion-dollar industry that produces components supporting a variety of business functions. IT investments have, as of 2011, become one of the largest categories of capital expenditure in United States-based businesses. Though early ERP systems focused on large enterprises, smaller enterprises increasingly use ERP systems. The ERP system integrates varied organizational systems and facilitates error-free transactions and production, thereby enhancing the organization's efficiency. However, developing an ERP system differs from traditional system development. ERP systems run on a variety of computer hardware and network configurations, typically using a database as an information repository.
Module Introduction to Enterprise Resource Planning (ERP) consists of the following subtopics Information System and Its Components, Value Chain Framework, Organizational Functional Units, Evolution of ERP Systems, Role of ERP in Organization, Three-Tier Architecture of ERP system. ERP and Implementation ERP implementation and strategy, Implementation Life cycle, Preimplementation task, requirement definition, implementation Methodology. Module ERP Business Modules consists of the following subtopics Finance, manufacturing, human resources, quality management, material management, marketing, Sales distribution and service. Case study on Supply Chain management (SCM), Customer relationship Management (CRM). Module Introduction to ERP related Technologies consists of the following subtopics Business Process Re-engineering (BPR), Data warehousing, Data Mining, On- line Analytical Processing(OLAP), Product Life Cycle Management (PLM). Geographical Information Management ,RFID, QR Code ,Bar Coding, E-commerce and their application in Enterprise planning. Module Extended ERP and security issues consists of the following subtopics Enterprise application Integration (EAI), open source ERP, cloud ERP, Managing ERP Securities: Types of ERP security Issues, System Access security, Data Security and related technology for managing data security. Suggested Texts Books for Enterprise Resource Planning by Mumbai University are as follows Alexis Leon, ERP Demystified: II Edition, Tata McGraw Hill.  Rajesh Ray, Enterprise Resource Planning, Text and cases, Tata McGraw Hill. Sandeep Desai, Abhishek Srivastava, ERP to E2 ERP: A Case study approach, PHI. Jyotindra Zaveri, Enterprise Resource Planning, Himalaya Publishing House, 2012.Suggested References Books for Enterprise Resource Planning by Mumbai University are as follows V.K. Garg & N.K. Venkatakrishnan, Enterprise Resource Planning: concepts & practices, by ; PHI. Supply Chain Management Theories & Practices: R. P. Mohanty, S. G. Deshmukh, – Dreamtech Press.  Enterprise wide resource planning Theory & practice: by Rahul Altekar, PHI. Customer Relationship Management, Concepts and cases, Second Edition.
Prepare For Your Placements: https://lastmomenttuitions.com/courses/placement-preparation/


/ Youtube Channel: https://www.youtube.com/channel/UCGFNZxMqKLsqWERX_N2f08Q
Follow For Latest Updates, Study Tips & More Content!

/lastmomenttuition

/ Last Moment Tuitions

/ lastmomentdost
Course Features
Lectures

24

Quizzes

0

Duration

50 hours

Skill level

All levels

Language

English

Students

410

Certificate

No

Assessments

Yes
Mohammad irshad

Brilliant

Superrrr. It is most helpful for new students thnx so much

S.Ch

Brilliant***

very helpful course. Thank you!