Get Latest Exam Updates, Free Study materials and Tips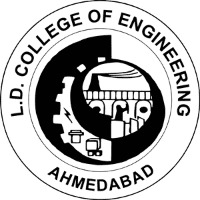 Lalbhai Dalpatbhai College of Engineering endearingly known as L.D.C.E is Ahmedabad's premier engineering college situated at city's heart surrounded by elite organization Like PRL, ATIRA, ISRO, IIM and CEPT. Started in 1948 with an aim of imparting quality higher education in various fields of engineering, it has seen unprecedented growth.
It is affiliated with Gujarat Technological University & administrated by states Department of Technical Education.
Entrance Exam: GUJ-CET/ JEE Main
    Total Fee:- ₹ 6000
    Website:-LDCE
Computer Engineering
Rounds
GUJCET
JEE
1
29
—
2
—
—
Automobile Engineering
Rounds
GUJCET
JEE
1
547
—
2
—
—
Information Technology
Rounds
GUJCET
JEE
1
73
—
2
—
—
Civil Engineering
Rounds
GUJCET
JEE
1
846
—
2
—
—
Electronics and Communication Engineering
Rounds
GUJCET
JEE
1
135
—
2
—
—
Environmental Engineering
Rounds
GUJCET
JEE
1
1011
—
2
—
—
Chemical Engineering
Rounds
GUJCET
JEE
1
521
—
2
—
—
Rubber Technology
Rounds
GUJCET
JEE
1
2872
—
2
—
—
Biomedical Engineering
Rounds
GUJCET
JEE
1
2930
—
2
—
—
Textile Technology
Rounds
GUJCET
JEE
1
7624
—
2
—
—
Mechanical Engineering
Rounds
GUJCET
JEE
1
250
—
2
—
—
Electrical Engineering
Rounds
GUJCET
JEE
1
573
—
2
—
—
Plastic Technology
Rounds
GUJCET
JEE
1
2607
—
2
—
—
Instrumentation and Control Engineering
Rounds
GUJCET
JEE
1
1440
—
2
—
—