Maths 3 MCQ's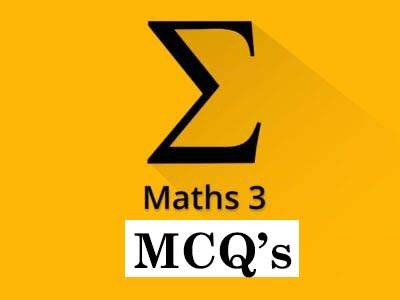 Engineering Maths 3 MCQ's

Engineering  Maths 3 is the semester 3 subject of computer engineering in Mumbai University. Course objectives for the subject Applied Mathematics-III to understand the concept of complex variables, C-R equations, harmonic functions and its conjugate and mapping in complex plane.

To learn the complex mapping, standard mappings, cross ratios and fixed point. To learn the Laplace Transform, Inverse Laplace Transform of various functions, its application and Z-transform. To understand the concept of Fourier series, its complex form and enhance the problem solving skill.  Course outcomes for the subject Applied Mathematics-III On successful completion of course learner will be able to understand complex variable theory, application of harmonic conjugate to get orthogonal trajectories and analytic function. Plot the image of the curve by a complex transformation from z-plane to w-plane. Expand the periodic function by using Fourier series and complex form of Fourier series.  Understand the concept of Laplace transform and inverse Laplace transform of various functions and its application to solve ordinary differential equations. Apply the concept of Z- transformation and its inverse of the given sequence. Apply the concept of Correlation and Regression to the engineering problems.

Module Laplace Transform consists of the following subtopic Laplace Transform of Standard Functions: Introduction, Definition of Laplace transform, Laplace transform of at 1, e n sin(at), cos(at),sinh(at),cosh(at),t erf (t), Heavi-side unit step, dirac-delta function, LT of periodic function. Properties of Laplace Transform: Linearity, first shifting property, second shifting property, multiplication by n t, division by t , Laplace Transform of derivatives and integrals, change of scale property.  Module Inverse Laplace Transform consists of the following subtopic Inverse Laplace Transform by Partial fraction method, Convolution theorem. Application to solve initial and boundary value problem involving ordinary differential equations with one dependent variable and constant coefficients. Module Fourier Series consists of the following subtopic Dirichlet"s conditions, Fourier series of periodic functions with period 2p and 2L, Fourier series for even and odd functions. Half range sine and cosine Fourier series, Parsevel"s identities. Complex form of Fourier series, Orthogonal and Orthonormal set of functions. Module Complex Variable & mapping consists of the following subtopic Functions of a complex variable, Analytic functions, Cauchy Riemann equations in Cartesian co-ordinates & Polar co-ordinates. Harmonic functions, Analytic method and Milne Thomson methods to find f(z), Orthogonal trajectories. Mapping: Conformal mapping, bilinear transformations, cross ratio, fixed points, bilinear transformation of straight lines and circles. Module Z-transform consists of the following subtopic Z-transform of standard functions such as Z(an ), Z(n p ).Properties of Z-transform :Linearity, Change of scale, Shifting property, Multiplication of K, Initial and final value, Convolution theorem. Inverse Z transform: Binomial Expansion and Method of Partial fraction. Module Correlation & regression, Curve Fitting consists of the following subtopic Scattered diagrams, Karl Pearson"s coefficient of correlation, covariance, Spearman"s Rank correlation(non-repeated and repeated ranks). Regression coefficient & Lines of Regression. Fitting of curves: Least square method. Fitting of the straight line y = a + bx ,parabolic curve 2 y = a + bx + cx ,& exponential curve x y = ab.

Suggested texts books for the subject Applied Mathematics-III by Mumbai university is as follows Higher Engineering Mathematics by Grewal B. S. 38th edition, Khanna Publication 2005. Advanced Engineering Mathematics by Kreyszig E. 9th edition, John Wiley. A Text Book of Applied Mathematics Vol. I & II by P.N.Wartilar & J.N.Wartikar, Pune, Vidyarthi Griha Prakashan., Pune. Suggested reference books for the subject Applied Mathematics-III by Mumbai university is as follows Advanced Engg. Mathematics by C. Ray Wylie & Louis Barrett.TMH International Edition. Mathematical Methods of Science and Engineering by Kanti B. Datta, Cengage Learning. Integral Transforms and their Engineering Applications by Dr. B. B. Singh, Synergy Knowledgewar. Laplace Transforms by Murry R. Spieget, Schaun"s out line series-McGraw Hill Publication.
Branches Covered ( Comps , Mechanical , Civil , EXTC , Electrical , Electronics , IT )
Handmade Notes : Notes are Brilliant , Easy Language , East to understand ( Student Feedback )
Exam ke Pehle Notes ek baar Dekhlo revision aise hi ho jata hai  
This series include
1) Laplace transform
2) inverse Laplace Transform
3) Complex Variable
3) Fourier Series
5) Conformal Mapping
6) Correlation
7) Z transform
8) Regression
9)Partial Differentiation
10)Complex Integration
11) Vectors
12)Probability
13) Set theory
Prepare For Your Placements: https://lastmomenttuitions.com/courses/placement-preparation/


/ Youtube Channel: https://www.youtube.com/channel/UCGFNZxMqKLsqWERX_N2f08Q
Follow For Latest Updates, Study Tips & More Content!

/lastmomenttuition

/ Last Moment Tuitions

/ lastmomentdost
Course Features
Lectures

13

Quizzes

0

Duration

50 hours

Skill level

All levels

Language

English

Students

57

Certificate

No

Assessments

Yes